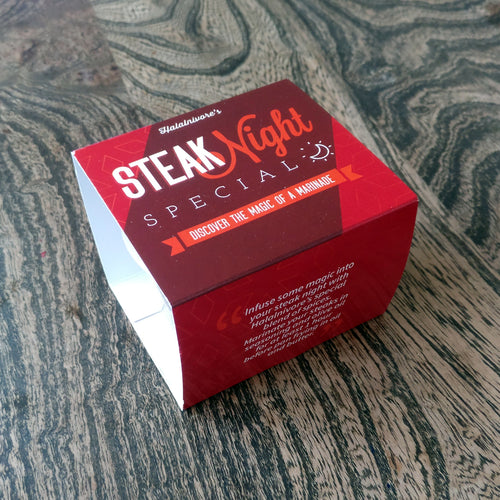 Steak Night Special - Meat Rub
Make halal steak night easier with our easy to use meat rub with flavourful herbs and spices. All you have to do is marinate your steaks in our special seasoning and olive oil for at least 1 hour before pan frying in oil and butter. After you let your halal steak rest before serving, lower the heat and pour in some cream in the same pan and let the cocoa powder infuse for a great steak sauce for a wholesome steak meal in minutes!
All our gourmet salts and rubs are hand mixed for us in Dorset with freshly sourced and flavourful ingredients.
Check out our other rubs and sauces also:
Sambal Oelek Spicy Chilli Paste
Ingredients:
Garlic granules, Thyme, Oregano, Sugar, Salt, Onion powder, Ground cumin, Cocoa, Tomato powder, Smoked paprika & Chipotle powder.
Weight 42g
Refer to a friend, Get 10% off when they order